super hair!
Okay so like everyone, I am totally obsessed with the show, Heroes.
It has everything we love about X-men and it airs once a week! How awesome is that?
You know, I normally don't doubt this show but sometimes things in Heroes just bug me because they are so improbable. I know!! It's a show about people with powers. Why does this worry me so much? Anyways, I usually can overlook some things but with this last episode I just cannot hold it in anymore.
Just to bring you up to speed, story-wise, Claire (has super healing powers) dives into her house to save her Evil/Good/Secret Agent Dad from a radioactive explosion. (Thanks to that radioactive guy, d'er) So she saves her Dad AND tranquilizes the radioactive guy. She comes out of the house all burnt and then heals herself before our very eyes. Everyone's in awe.
'cept me. I was like "bullshit!"
Observe this before/after comparison.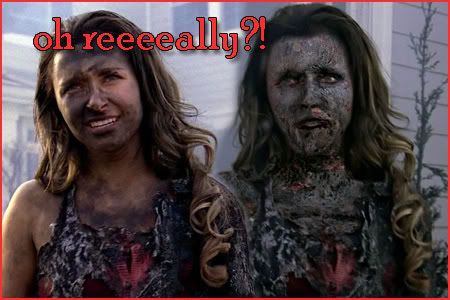 CLAIRE'S HAIR IS UNTOUCHED THE WHOLE TIME!!
sighs. Am I supposed to believe that Claire risked deactivating the ammonium thioglycolate by getting your hair
wet
burnt within 48 hours? Her blonde locks were still intact!!
In her defense, Hayden Panettiere did used to do those Neutragena commericals. I suppose while eliminating blackheads she also used some hair stuff too. In fact (I did alittle researching) they do have this new hairstuff:
Neutrogena Triple Moisture™ Healing Shine Serum remedies dryness and damage all the way down to the tips.

Go beyond surface shine with this extraordinary daily leave-in treatment that actually helps repair damage. Treat frazzled and split ends, restoring strength and moisture to weak, dehydrated hair with three naturally derived extracts. Olive penetrates to the center of the hair strand, Meadowfoam Seed helps moisturize the middle and Sweet Almond wraps the surface. A single use will leave your hair brilliantly shiny and healthy looking from root to tip.

Oh yeah! I need me to get some of that stuff!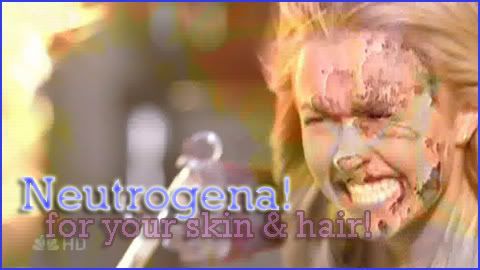 Labels: can'tTALKtv, hair
---