Inside the Bachelor's Life
If you've been inside my apartment, you knew this was coming eventually...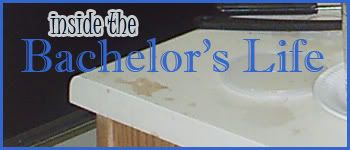 Let's see one part of the apartment, the kitchen. Observe: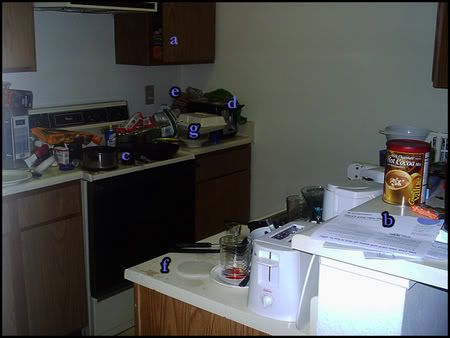 A: The cabinet that never completely closes. and YES, if you look closely that is my dinner you see. The Macaroni and Cheese.
B: Various bills and credit card statements.. like we do.
C: The only pots/pans we have are dirty and on the stove
D: Jason's fryer.. we used once and never used again because we couldn't figure out how to clean it. Yeah. the orginal grease is still in there. Beware, don't open it!
E: Misson Tortilla chips that have been there for at least a year. I'm sure of it.
F: Miscellaneous stains on the counter... let's hope it's syrup.
G: Deliver/carryout and other packages everywhere!
you know there's more!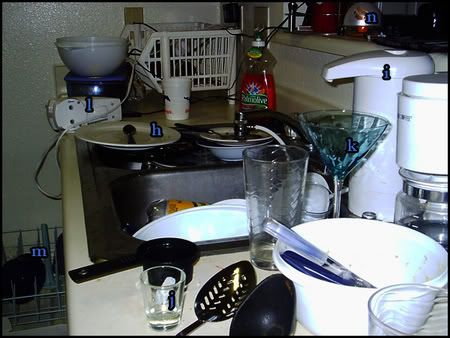 H: Unclean! Unclean!
I: At least we drink clean water, right?
J: tequila shots anyone?
K: Martini glass, like I do.
L: Plugged applicance by the sink... yeah.
M: My sister came to the apartment last week and totally started doing the dishes!! This is what is left of the clean dishes. When is she coming back?! I wonder if she does windows too?
N: A sad attempt on keeping the smell controlled.
Wow... I never thought I would turn into one of those people who didn't clean after themselves. Seriously! This is probably getting out of hand. The funny thing is that looking at the living room, it's like night and day.
---