argh, you ANTM
Okay so I've been watching America's Next Top Model. And this season is starting to get bad! First they eliminate Lisa, the only one that can actually model somewhat. Then they get rid of my Kim [the boy], the sassy lesbian. And now they kicked Jayla off!
I say that
Tyra Banks
is the brains of the America's Next Top Model conspiracy! Hey no stupid-model jokes! Besides, I didn't say it was a good conspiracy... OOH! Anyways, here is the evidence that they sabatoged Jayla from having any chance of looking good in this photoshoot. Please excuse the small pics, I didn't want huge ones. Go to the Top Model website for bigger sized ones.
Exhibit A:
There's like 17 million people in Jayla's photo! What the flip?!
Exhibit B:
Jayla is off-center. B is where she should of been! Everyone else is in the center.
Exhibit C:
Why are there four girls all up in Jayla's grill?! All I see is flailing arms everywhere.
Exhibit D:
Why is she wearing an awfully bad wig?! ugh.
Exhibit E:
Nicole's in the middle, not crowded and has frump girl(
Exhibit J
) in the front.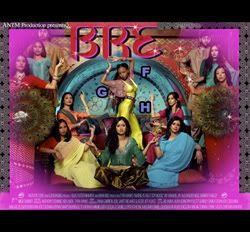 Exhibit F:
Bre has plenty of elbow room and has a semi-circle turquoise backdrop! daaymn, that's good.
Exhibit G:
Speaking of the backdrop... this picture is so symmetrical that how can anyone NOT be the star of this shot if they were standing in the middle.
Exhibit H:
Bre is practically flashing us some T&A!! I think there might of been a wardrobe malfuntion 2 seconds after this pic was taken. Way to be a hoe, Bre. Okay, perhaps that has nothing to do with Jayla, but I hate that biatch Bre!
Exhibit I:
I see they hired little people for Nik's photoshoot.
UGH! I guess I'll have to route for Nicole now. I hate Bre so much, and Nic is too bland and blah for me.
---